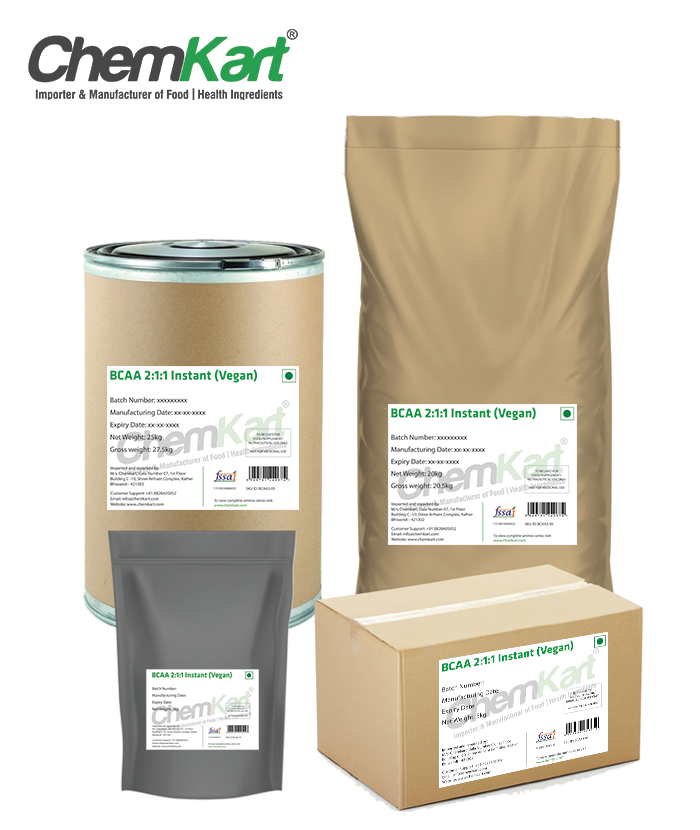 BCAA(2:1:1) is one of the popular food additives and ingredients in most countries. Chemkart is a professional supplier of BCAA(2:1:1). Chemkart has been importing BCAA(2:1:1) from Europe USA China and supplying in India for almost 10 years, please be assured to buy BCAA(2:1:1) at Chemkart. For any inquiries and questions please feel free to mail us at info@chemkart.com, we will reply you within 24 working hours.
CAS No – 69430-36-0
Qty in 20' FCL - 18MT
Packing - 25kg Bag / Drum
Min.Order - 500KG
QC - Haccp, Kosher, Halal, ISO
A branched-chain amino acid (BCAA) is an amino acid having aliphatic side-chains with a branch (a carbon atom bound to more than two other carbon atoms). Among the proteinogenic amino acids, there are three BCAAs: leucine, isoleucine and valine.ValineThe BCAAs are among the nine essential amino acids for humans, accounting for 35% of the essential amino acids in muscle proteins and 40% of the preformed amino acids required by mammals.
| | |
| --- | --- |
| ITEM | STANDARD |
| Description | White Powder |
| Identification(IR) | Meet the requirements |
| Loss on Drying =< % | 0.50 |
| Heavy Metals( As Pb) = | 10 |
| Lead Content = | 5 |
| Arsenic(As) =< PPM | 1 |
| Residue on Ignition =< % | 0.4 |
| Total Plate Count =< cfu/g | 1000 |
| Yeast and Moulds  =< cfu/g | 100 |
| E. Coli | Absent |
| Salmonella | Absent |
| Staphylococcus aureus | Absent |
| Particle size range >= |  95% through 80 mesh |
1. What kinds of certificates can you offer?
Chemkart is an ISO2008 9001 certified company, as for BCAA(2:1:1), we can offer HAPPC, KOSHER, HALAL Certificates, etc.
2. Is Chemkart a manufacturer or just a trading company?
Chemkart is both manufacturer and trading company, we are BCAA(2:1:1) supplier, at the same time, we are a manufacturer of other products.
3. What is the Min Order Quantity of BCAA(2:1:1)?
Different products have different MOQ, for BCAA(2:1:1), the MOQ is 500kg.
4. What is the price of BCAA(2:1:1)?
Chemkart is a famous supplier and manufacturer of BCAA(2:1:1), and has cooperation with many BCAA(2:1:1) manufacturers for several years, we can provide you with the best quality and most cost-effective BCAA(2:1:1).
5. How long shall we wait for your reply?
We can guarantee to reply your inquiries of BCAA(2:1:1) in less than 24 hours in working days.
6. What kinds of transportation types can you provide?
Our main transportation methods include air transportation, land transportation, and water transportation.
7. What kinds of payment terms can you accept?
The most commonly used payment terms are T/T, L/C, D/P, D/A.
8. How long will I receive my good?
Chemkart has its own bonded warehouse in Shanghai, China, and Bhiwandi, Mumbai in India. When your purchase order has been confirmed, inventory products will deliver within 1 week, other products delivery in 2 weeks.
Subscribe newsletter
Be among the first to know latest updates, offers and lot more